Archives
now browsing by author
There are a number of ways that you can tell your friends about the wonders of Safe Shark Hosting. You can share our posts on Facebook, re-tweet our tweets on Twitter, and of course, word-of-mouth is fantastic. But now, I give you another way that you can show your friends and audiences just how much you love Safe Shark Hosting… BUTTONS!
Below are several of our new Safe Shark Hosting buttons that you can stick anywhere on your website for a hassle free way to say, "Hey, I love my hosting!" Several sizes, colors, and designs make promoting Safe Shark Hosting easy and fun!
Size 100×15:



Size 88×31:

Size 50×50:


Size 125×125:


Size 200×40:


————————————————-
How To:
Not sure how to add an image to your site? How about turn an image into a link? Well, here's a simple way to do it!

Step 1: Pick an image. You can either right click and copy the image URL directly from this page, or you can save it to your computer, and upload it to your Media Files on your WordPress dashboard, which will give you your own URL for the image.
Step 2: Where do you want to put the image? You can put an image in just about any field that you can enter text in. This includes the body of a blog post, or in a text field widget somewhere else on your site. If you want to add an additional text field to your page, you can go to Dashboard > Appearance > Widgets and then choose where you want to put the text field in your theme.
Step 3: When you find a spot where you want to put your selected image, there are a few ways to enter the image code, this has always been the way that I've done it, and it's pretty simple:
– If you want just the image, without linking it to a site:

– If you want to turn the image into a link to a site:

Just enter those codes into your selected field. In the second example, I used safesharkhosting.com as an example, but you can use these codes to link any image to any website! Hope this helps! 🙂
Happy Sharksgiving, my sharky friends!
'Tis the season to buy stuff, and spoil yourself! Thinking about starting up a new website for you or someone you know for the holidays? Well, now through November 30th, if you use the promo code SHARKSGIVING2012 at the checkout when upgrading your current package or buying a package for your new site, you'll save a whopping 25% on the cost!
Have a great holiday, everyone!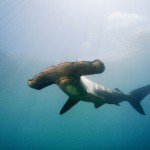 Have you ever wanted to own your own shark? Of course you have, sharks are cool!
Starting Sunday, August 12th, the Discovery Channel will be celebrating their 25th Anniversary of Shark Week! That's 25 years of sharks! In celebration, Safe Shark Hosting has decided to give you great discounts to help out a great cause.
If you sign up for web hosting with Safe Shark Hosting during our Shark Week, which will run from August 11th through August 19th, we'll give you a whopping 25% discount off a year (either prepaid or monthly!) of ANY of our awesome web hosting plans. Just use coupon code SHARKWEEK2012 when you check out.
But that's not all. Safe Shark Hosting will donate 25% (or more) of the total funds raised during our Shark Week promotion to the World Wildlife Fund to adopt a Hammerhead Shark. That's right, we're adopting a real shark!
So tell your friends, tell your co-workers, and tell your neighbors, because the Safe Shark Hosting family is getting a shark. And so are you! We can't do this without the help of our SSH Affiliates (have you signed up yet?), so spread the word, and be a part of this sharktastic celebration!