Shark Week!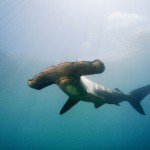 Have you ever wanted to own your own shark? Of course you have, sharks are cool!
Starting Sunday, August 12th, the Discovery Channel will be celebrating their 25th Anniversary of Shark Week! That's 25 years of sharks! In celebration, Safe Shark Hosting has decided to give you great discounts to help out a great cause.
If you sign up for web hosting with Safe Shark Hosting during our Shark Week, which will run from August 11th through August 19th, we'll give you a whopping 25% discount off a year (either prepaid or monthly!) of ANY of our awesome web hosting plans. Just use coupon code SHARKWEEK2012 when you check out.
But that's not all. Safe Shark Hosting will donate 25% (or more) of the total funds raised during our Shark Week promotion to the World Wildlife Fund to adopt a Hammerhead Shark. That's right, we're adopting a real shark!
So tell your friends, tell your co-workers, and tell your neighbors, because the Safe Shark Hosting family is getting a shark. And so are you! We can't do this without the help of our SSH Affiliates (have you signed up yet?), so spread the word, and be a part of this sharktastic celebration!