WPTouch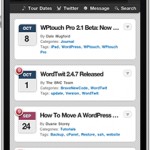 It's pretty tough to overstate the fact that we live in a mobile and digital age. Roughly 46% of US mobile phone consumers have smart phones, and this number is going up at an inexorable rate. We have the ability to be constantly connected to the Internet and to social media.
Bloggers, you need to take this into account – people can and will be looking at your blog while they're on the go. It's pretty typical that when I'm waiting for my gas tank to fill, I've got my Android out and I'm trying to keep caught up on posts by bloggers I read regularly. I've never gotten into RSS feed readers, but the simple fact is that most WordPress themes (even in this increasingly mobile world) are simply not designed for mobile phones.
Fonts are too small or hard to read, navigation links can be tough to select unless you've got toothpick fingers or a stylus, and they generally load slowly. Page load time, even on mobile phones where it's expected to be slower, will detract viewers from coming back and reading your content.
The easiest solution to this problem is the WPTouch plugin. Simply put, this plugin adds a second hidden theme to your site that is only shown to mobile browsers. This secondary theme is optimized to be more navigable, readable, quick, and cross-platform.
It's got a plethora of options – you can tweak colors, layout, icons, and so much more.
Unfortunately, this post isn't so great at the "show, not tell" adage of writing, so I'm going to have to direct you over to a workable demo which can illustrate the value this plugin presents – view http://demo.yellingontheinternet.com in your mobile browser. To begin with, it'll load using the WPTouch generated layout. After you've tinkered around with it for a few moments, scroll to the bottom of the page, and click the Mobile Theme slider. The page will reload, and at that point, I hope you've got your reading glasses at hand, because your ability to see anything with this layout (a very commonly used WordPress layout!) is virtually nonexistent on a mobile phone's screen.
Don't make your site be one of the unreadable, messy blogs that can't be read on a normal phone and inspire your readers to get out torches and pitchforks!
If you're a current customer of Safe Shark Hosting and would like us to install this plugin for you, let us know! If you're not a current customer, what are you waiting for? Low prices, fantastic customer service, and a plethora of satisfied customers. Let us help you blog at your best!