WordPress.com Custom CSS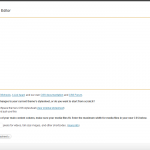 There are thousands of WordPress themes available (either paid or free), so it's pretty safe to say that if you have a vision for how you want your WordPress blog to look, there's probably a theme that can get you 90% of the way there already in existence.
But maybe you don't like how their links are colored, or that they're underlined. Perhaps the theme only supports a background color when you're hoping to use a sweet tiled texture. Maybe there are elements of the theme you're not a fan of, and would be better hidden away. What's the best way to achieve any of these goals?
There are three approaches.
First, you could edit the files of the theme directly.
Seems like a great and powerful option, right?
Editting a theme's files directly means that when that theme releases an update (and if you're using a theme, you want to be using one that updates frequently), your edits are gone. I don't know about you, but I don't fancy having to redo the same work multiple times.
You could always create a Child Theme – and in fact, this is the most recommended approach you could take, including by WordPress.org themselves. A child theme is basically a copy of an existing theme, but you change the style.css file to reference the theme you cloned (also known as the parent theme), and you only include files that are different from the ones in the parent theme. WordPress then places the child theme's files over the parent theme's files, giving you a smooth, dynamic way to make permanent changes to how your theme looks and functions.
Child themes are a fantastic option, but they require you to know a bit more about the internal nuts and bolts of WordPress to use them, and maybe that's just not your cup of tea. Or, maybe you want to go the route of a child theme, but need a chance to play around with the CSS changes you could make to your blog.
Enter the WordPress.com Custom CSS plugin. This plugin adds a new option to your Appearance menu called Edit CSS, like so:
Clicking that link takes you to a whole new world of easy customization:
Now you can simply paste any CSS you want to experiment with into that text box, click Save Stylesheet, and then refresh your site to see your changes in action. Best of all, this plugin uses the same WordPress revision system that your blog posts use, allowing you to very easily revert to a previous version of your custom CSS.
If you find a set of modifications you want to stick with long-term, you can always transition them into a child theme later. Meanwhile, though, you can be revamping your theme in minutes using this plugin.
If you're a current customer of Safe Shark Hosting and would like us to install this plugin for you, let us know! If you're not a current customer, what are you waiting for? Low prices, fantastic customer service, and a plethora of satisfied customers. Let us help you blog at your best!