Service Updates
now browsing by category
It's been a busy month at Safe Shark Hosting, and a busy year all around! Here's the recap:
Earlier this year, we added a second hosting server (NURSE) to handle our increased number of clients.
This past month, we retired our original hosting server (HAMMERHEAD) in favor of a new, faster server (MAKO)
We've added new DNS servers in more distributed geographical locations around the US to increase responsiveness.
We've upgraded the software used on our webservers to handle higher capacity traffic through the use of aggressive Varnish caching, helping ensure that a "Reddit hug" traffic spike won't be bad news.
We've continued to fine-tune our custom-built security code which scans our WordPress client sites for malware that may have slipped past our initial defenses. In the past year, we've caught a number of vulnerable plugins/themes before they had a chance to do any damage to our client's sites.
We've gotten help from @Jangasm for promotion & community management, and Noëlle Anthony for WordPress development.
We've begun limited beta testing of a new WordPress plugin written by Noëlle called MassiveUpload, helping make our podcaster's lives easier by allowing them to upload their large MP3 podcast episodes directly from inside the WordPress admin panel, rather than needing to upload them separately via FTP.
We're committed to providing you the best WordPress hosting service we can, and in short, we're pretty proud of what we've done!
However, we still always see room for improvement, and the concerns we see a lot from new clients is "Which hosting package is right for me? Are these plans big enough to host my traffic? What does this amount of bandwidth mean to me? Do I care about more MySQL databases? "
Those sound like worries! We don't like worries. Worries make sharks sad 🙁
That's why I'm pleased to announce that there are some upcoming changes to our webhosting packages.
Effective later today, all of our plans now offer UNLIMITED bandwidth and UNLIMITED disk space on one domain & unlimited subdomains.
Note that UNLIMITED has one minor caveat – we're not meant for backups or filesharing, legal or otherwise. Our webspace and bandwidth is meant to be used for the sole purpose of building and supporting websites. We're removing these limits to help our very high traffic blogs stop worrying about whether they'll get "too popular" to afford our service any more, and to dispel the notion that we can't handle podcasts with lots of listeners.
We're removing all limits on MySQL databases. In practice, this limit hasn't meant anything to any of our clients, so rather than leave the question hanging out there, we're just moving to UNLIMITED MySQL databases
Our new "one size fits all" plan is called the Hammerhead plan, priced at $12 per month, or $120 per year with free included domain.
We were sad to retire the HAMMERHEAD server, so we think our new mega-plan deserves to be named after it. Besides, hammerhead sharks are SO COOL. We know this price is still generally higher than other large, corporate web hosts, and indeed higher than our Tiger Shark plan. However, we feel we offer a high-quality service focused on WordPress users at a much lower price than other "WordPress-only" hosts, and still offer many additional benefits for free, like free managed transfers, access to premium themes, and more. We hope you'll understand!
If you're currently on the Tiger Shark plan, we're moving you to the Hammerhead plan.
If you currently pay monthly, you won't see any change until March 2014 – after that, we'll be adjusting your pricing to reflect the cost of the Hammerhead plan. If you signed up with any percentage discounts or promotions that haven't expired, we'll apply those to your pricing.
If you currently pay annually, we'll be increasing your pricing at the next renewal, and will factor in any lifetime percentage discounts you may have signed up with accordingly.
We don't really like the idea of raising costs on our clients, but we feel it's necessary in this case to offer the additional benefits of unlimited disk space and bandwidth, and to allow us to continue improving our service. We hope you'll understand!
If you're currently on the Thresher Shark plan, we're moving you to the Hammerhead plan so you get to benefit from the immediate perks of unlimited disk space and bandwidth.
If you currently pay monthly, your next & future monthly bills will reflect the lower cost of the Hammerhead plan. If you pay annually, your next renewal will reflect the new price, and we'll provide you a credit to reflect the remainder of your annual plan at the new pricing.
If you're currently a non-business/organization on the Great White Shark plan, we're making the same changes to your package as we are to the Thresher Shark plan – you're moving to Hammerhead, and we're adjusting your monthly/annual billing accordingly.
If you're currently a business/organization on the Great White Shark plan, we're increasing your bandwidth and disk space limit to UNLIMITED, but the rest of your plan is remaining the same.
We hope these changes aren't too confusing, but if you have any questions, please feel free to ask in the comments, or catch us on Twitter. Thanks for letting us host you!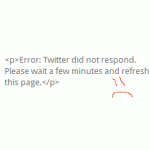 Recently, we've noticed errors appearing on sites using the Jetpack plugin's Twitter widget, as well as issues with any other widgets offering the display of Twitter feeds.
Concerned about this, we dug into the issue – after all, error messages are a bad thing. Unfortunately, we don't have good news to report. Twitter recently made some changes to how they allow outside services to communicate with their servers to post and read tweet information – these activities are now more strictly rate limited than they were previously. Currently, the rate limit is 150 per IP per hour.
You can see the problem, can't you? We've got a minimum of 80 sites currently displaying Twitter feeds – if someone posts a new blog post which gets a surge of traffic, we pretty easily hit that 150/IP/hour limit. Not good!
Currently, we don't have a good solution to this problem, but it's something we're actively working on. We've got more IPs available to us, and we may be redistributing sites among them soon to hopefully limit our chances of tripping the request limit. We're also actively monitoring Twitter widget development to find plugins that manage to find ways (caching, most likely) to help minimize this issue – when we find a better solution, we'll be sure to let you know!